Mark Ambrosino
President & Co-founder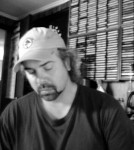 Mark is a professional drummer who performed at his first paying gig at the age of 10 years old. He has had the opportunity to play with many notable musicians and performers over the years, including Ray Charles, Stevie Wonder and Whitney Houston. His studio, The Madhouse, is home to many independent and major label recordings. Mark has recorded over one hundred full-length records at The Madhouse and has produced almost half of those projects.

Mark's extensive experience working with a variety of artists, both behind the drum kit and behind the console, has made him keenly aware of the great talent and promise that exists in the music world as well as the daunting challenges. Mark's inspiration for beginning Sojourn is in no small part due to watching artists walk out the door of his studio with a master recording that they had pored their all into - only for this recording to fall short of reaching a wider audience.

Mark has formed many long lasting relationships with artists and musicians, and some of those artists have joined on with Sojourn, including Danny Kalb, Theo Eastwind and Neshama Carlebach. Mark's belief in these artists, and in turn their belief in Mark, is representative of the hard work, trust and commitment that Sojourn values. Mark continues to interest artists every day in his new "vision" of what a record label can be; both a place of great community and artists' participation as well as a place where great records are made. Someday, Mark sees the Sojourn sound being identifiable just like the Motown sound, and the Sojourn brand being synonymous with the movement it began by fusing the "classic" record label's focus on making great records, with the progressive, Web 2.0 community model that encourages participation and evangelism among its members.